LINEA COLOUR PROTECT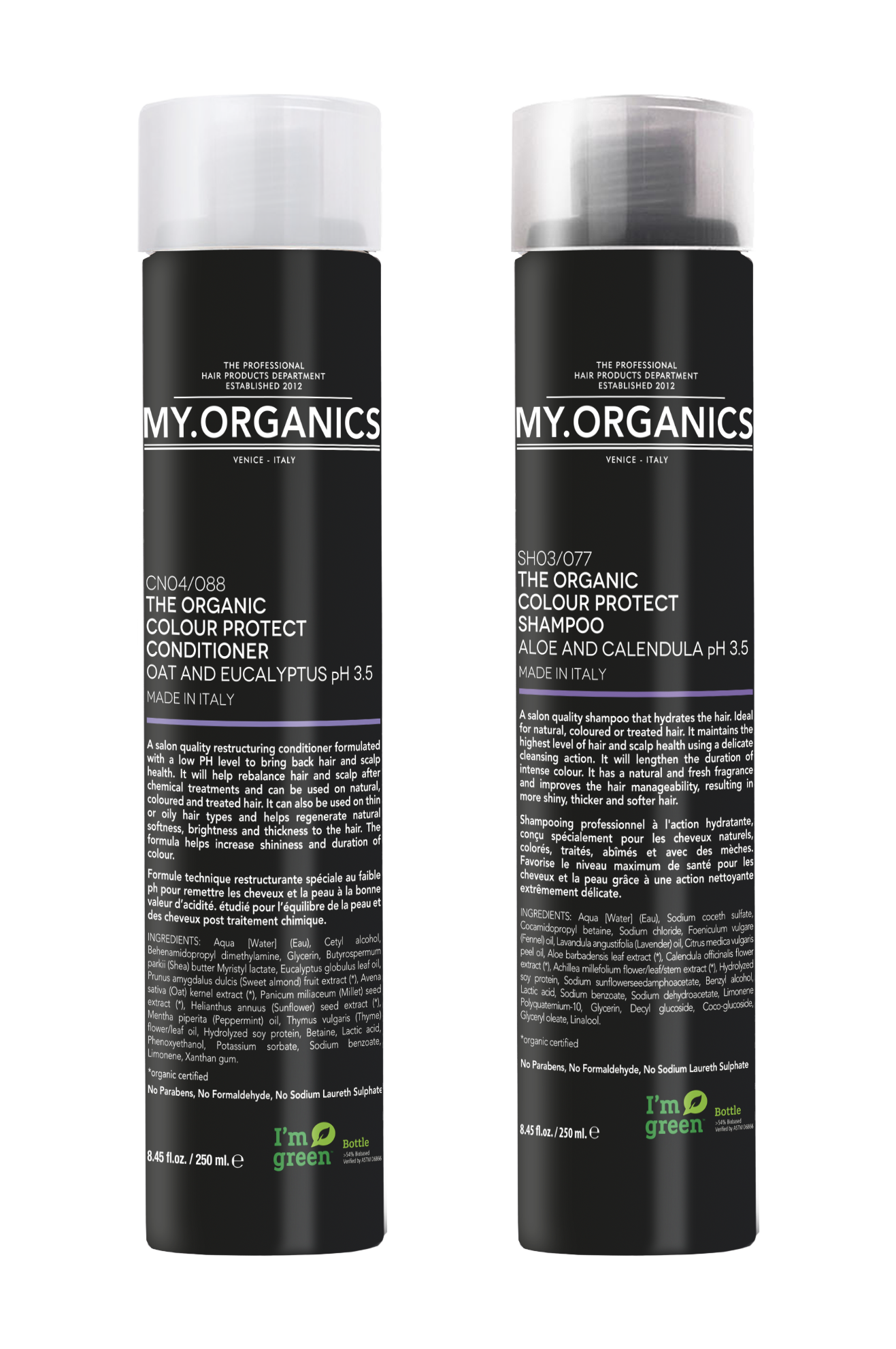 Colour Protect è la linea che previene l'impoverimento dello stelo e migliora la manipolazione dei capelli colorati e naturali.
THE ORGANIC COLOUR PROTECT CONDITIONER
Oat and eucalyptus, pH 3.5

Un balsamo ristrutturante tecnico, professionale, ad uso salone, di qualità e formulato a basso pH per ripristinare la salute dei capelli e del cuoio capelluto. Aiuta al bilanciamento di cute e capelli post-trattamento chimico e può essere usato sia per capelli naturali che colorati e trattati. Può essere utilizzato anche su tipi di capelli sottili o grassi e aiuta a rigenerare la naturale morbidezza, luminosità e spessore dei capelli. La sua formula favorisce lucentezza e durata del colore.
Avena, favorisce la produzione di melanina e quindi fa bene al cuoio capelluto e al rafforzamento dei capelli aiutandoli a mantenere un colore uniforme e brillante. I minerali in essa contenuti idratano e prevengono l'invecchiamento dei capelli, donando loro corpo e volume.
Olio Essenziale di Eucalipto, estratto dalle foglie essiccate, può essere applicato direttamente sul cuoio capelluto, aumentando così lucentezza ed elasticità dei capelli.
THE ORGANIC COLOUR PROTECT SHAMPOO
Aloe and calendula, pH 3.5

Shampoo professionale ad azione idratante, specifico per capelli naturali, colorati e trattati.  Promuove il massimo grado di salute nei capelli e nella cute attraverso una delicatissima azione pulente. Un colore intenso e duraturo. Dotato di una fragranza fresca e naturale, migliora la maneggevolezza dei capelli rendendoli più spessi e morbidi.
Aloe Vera, i suoi estratti hanno proprietà nutrienti e antiossidanti che aiutano a rinvigorire il cuoio capelluto.
THE ORGANIC NO-YELLOW SHAMPOO
Walnut and sweet almond

Lo shampoo anti-giallo è ideale per i capelli grigi, bianchi e decolorati. Ravviva le mèches e la luminosità dei capelli chiari neutralizzando i toni gialli.  Gli estratti naturali di noce e mandorle, uniti ad una precisa concentrazione di vitamine, nutrono in profondità, rendendolo più morbido e liscio.